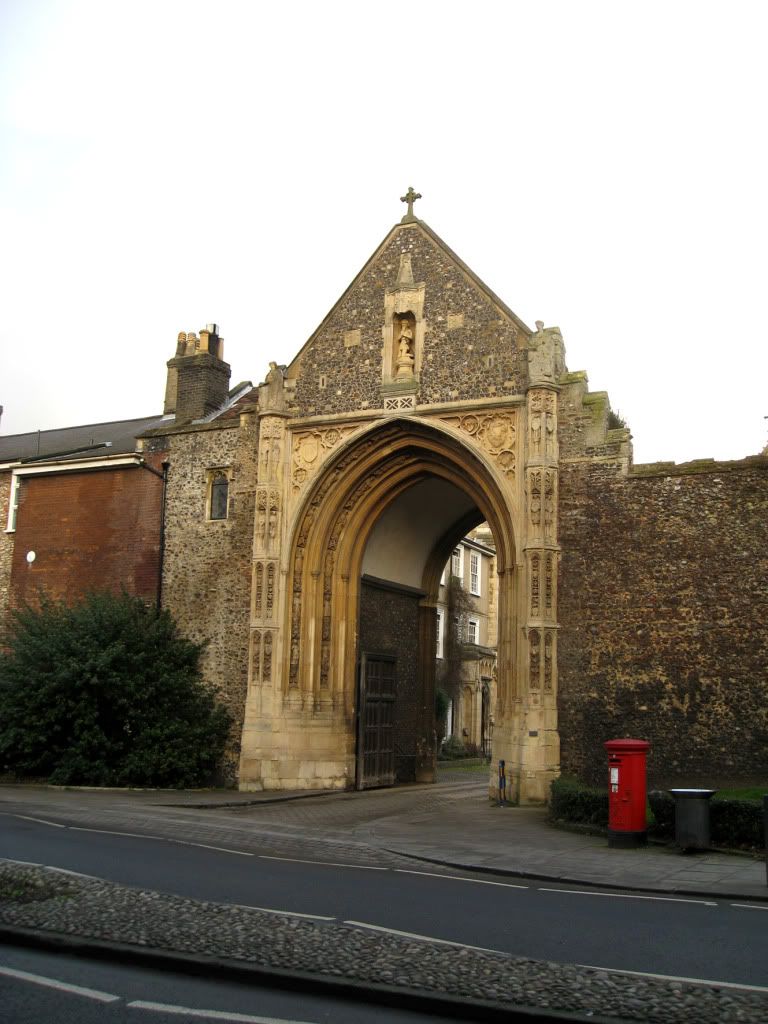 Erpingham Gate is an entrance to the Norwich Cathedral that stood for over 900 years as Christian presence in the heart of Norfolk. This gate was built around 1420 by Sir Thomas Erpingham, an English Knight who led King Henry V's archers at the Battle of Agincourt in 1415. At the top can be seen his figure.
Above the West Door of Cathedral are:
Statue of Lady Julian of Norwich (1342-1416). In 1373 she became very ill and witnessed 16 visions of Christ's Passion. She wrote Revelations of Divine Love. This book is the first written in English by a woman
St Benedict (480-527)
The Cathedral is 140.5 m long, 22 m wide and 96m high. The Spire is the 2nd highest in the country, after Salisbury
Cathedral at night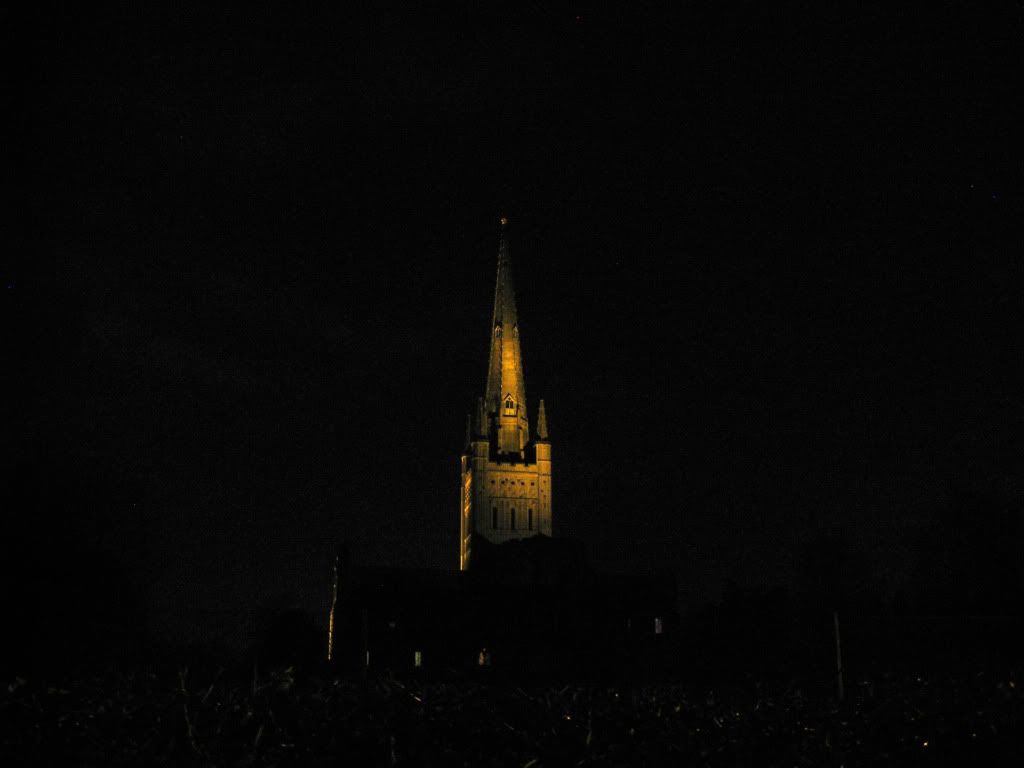 Cathedral foundation stone was laid by Herbert de Losinga in 1096!!!
The Nave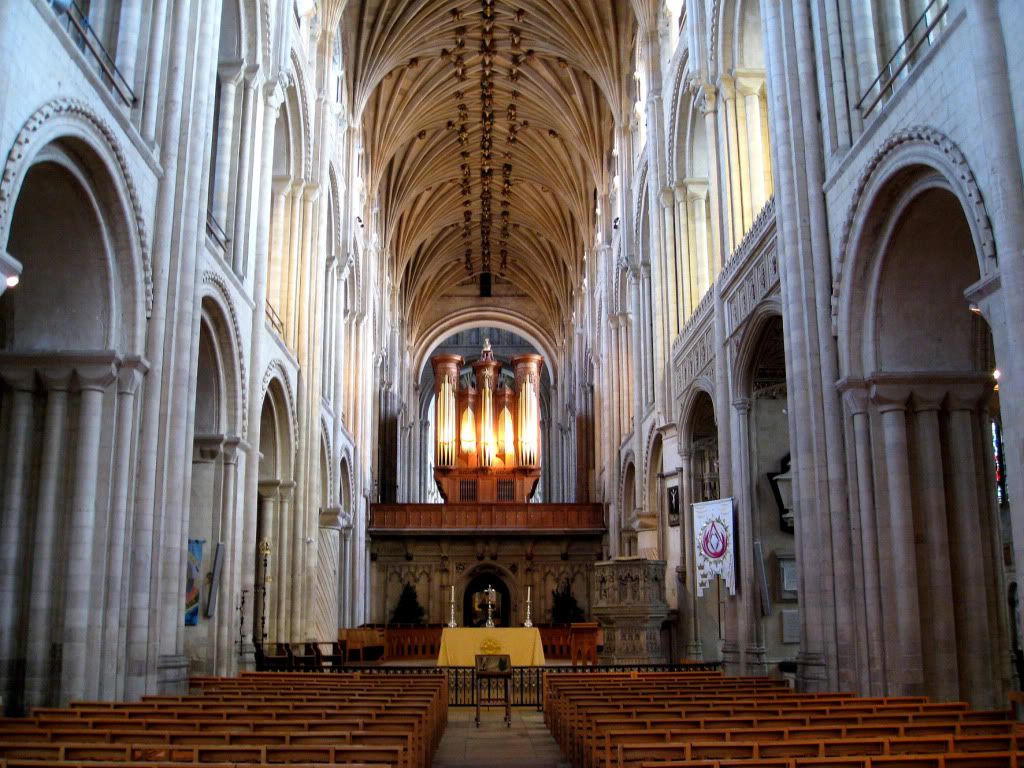 The font. Previously this vessel was used in Norwich chocolate factory
Pulpitum
This screen is the church's symbol of the meeting place of earth and heaven
The Pelican Lectern (14th century) from which the Bible is read stands in the Crossing. According to the legend Pelican feeds her young with her own blood from her breast. It stands as an image for the Sacrifice of Christ.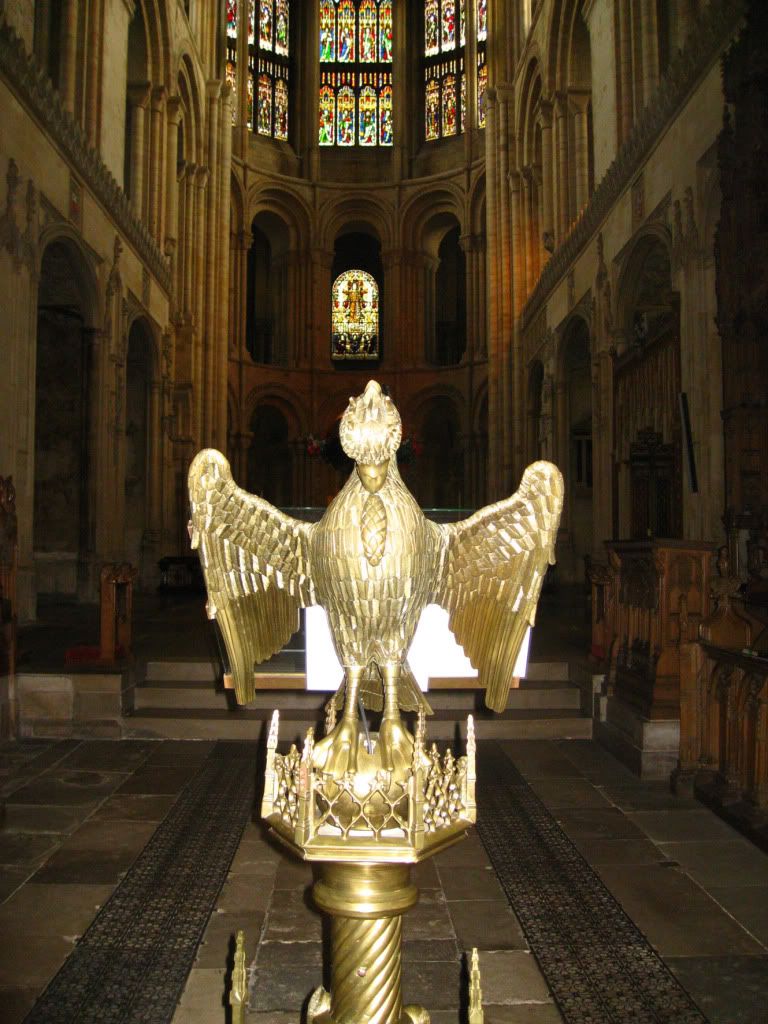 The Latin name for pity or mercy is "misericordia". The Benedictine monks of Norwich Cathedral were expected to stand for hours each day, often starting at 2.30 am in the morning. From 13th century their discomfort was eased by a facility by which their seat (tipped up and closed) exposed a ledge upon which they might perch. This is became known as misericord that show a range of images, often humorous, from daily life.
The bosses (roof) telling the stories of the World from Creation to the Last Judgement. Being hight on the roof, bosses escaped the vandalism of the Puritans and various Norwich mobs.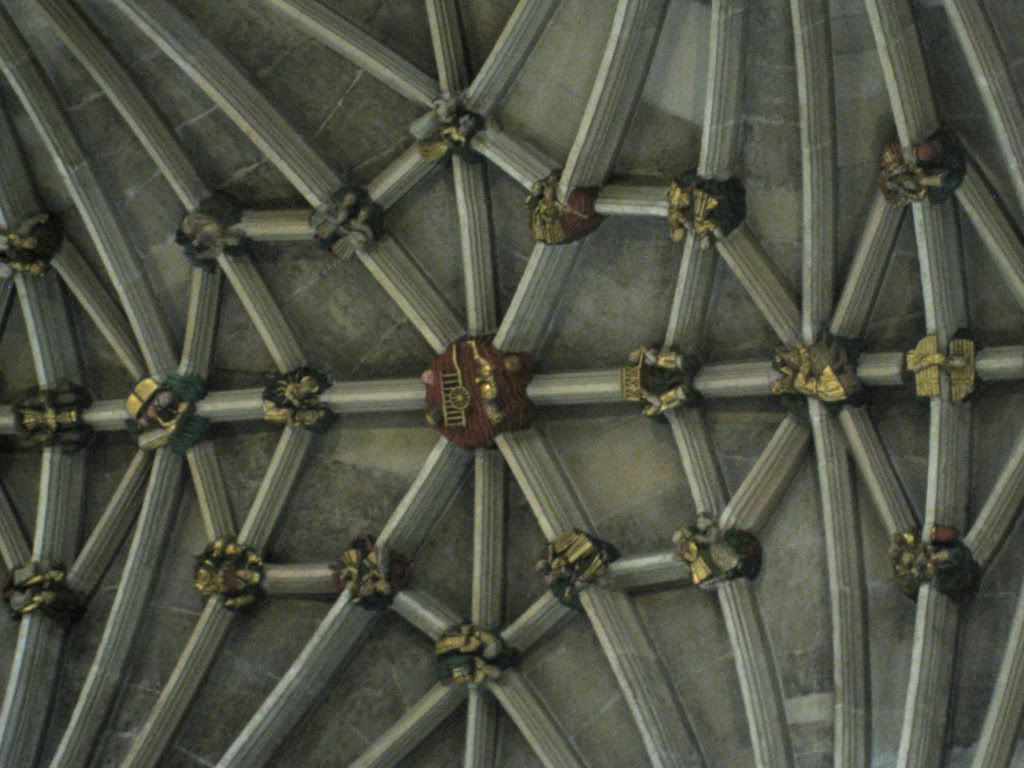 Boss in the Cloister
The cloister was a passageway that linked the different parts of the monastery. It was also a place for study and work
the different parts of Cathedral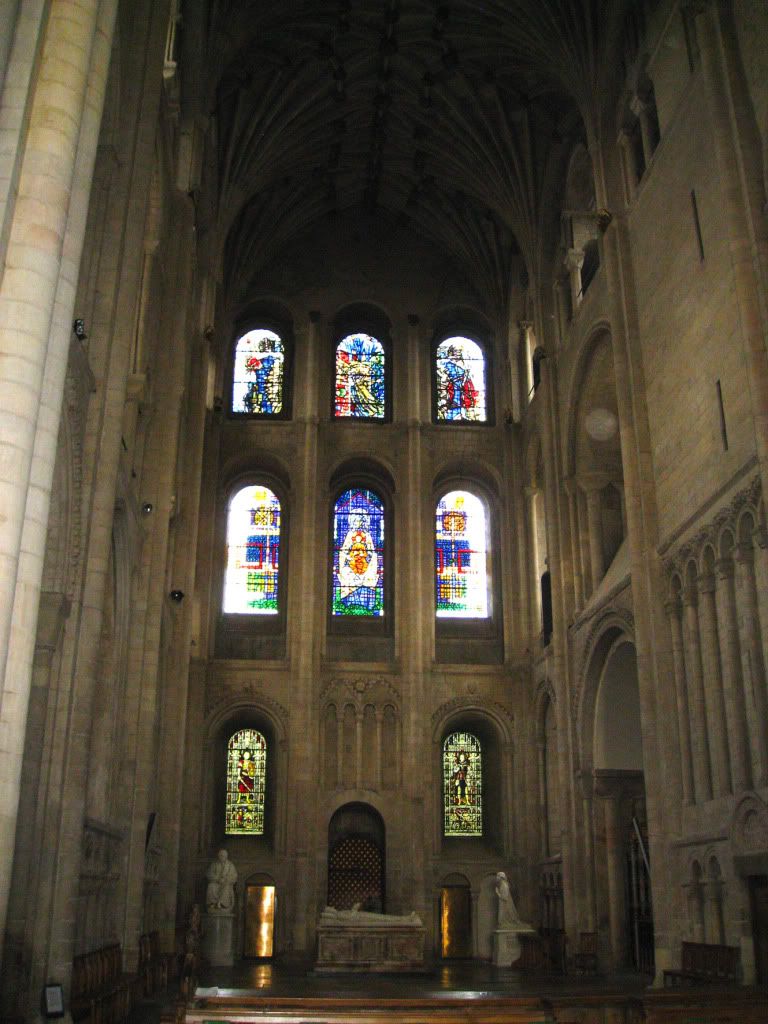 Outside is a huge tree!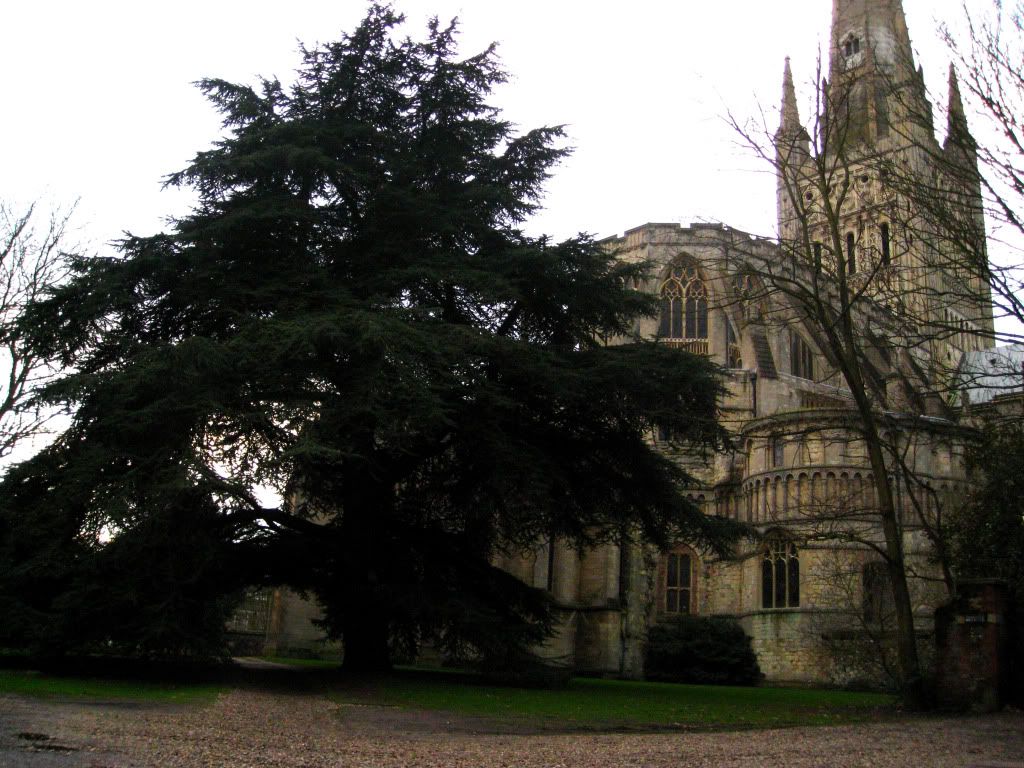 And narrow street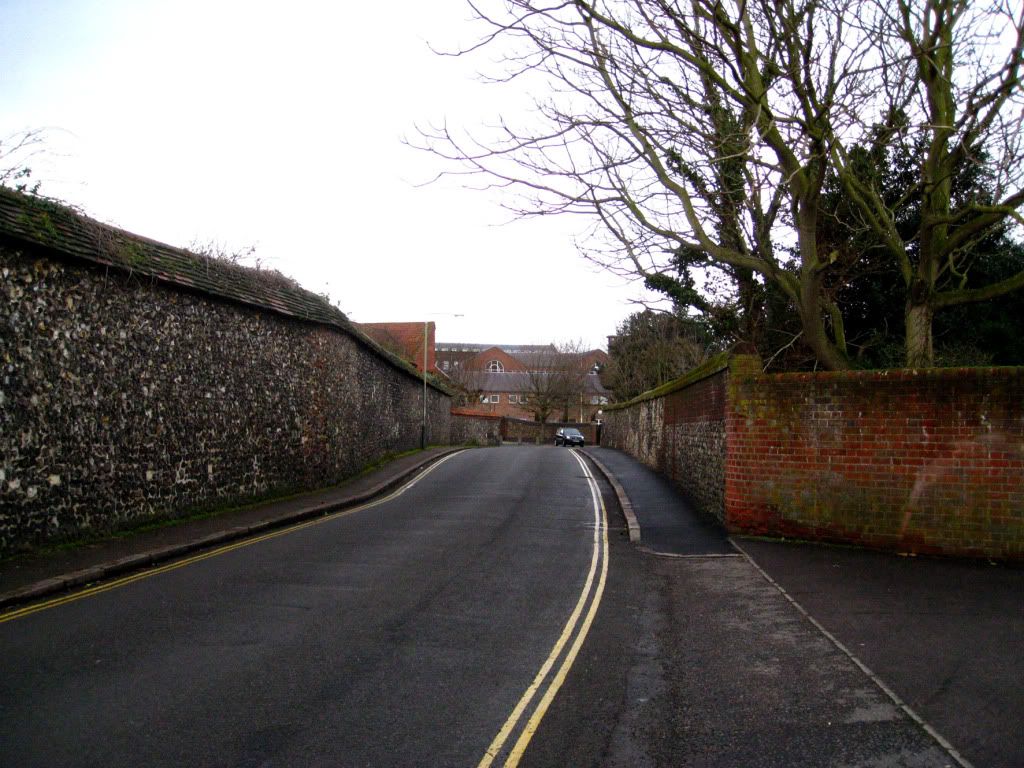 That day we went to service. It was my 2nd day in England and I obviously was not adapted yet, so I was really understanding those monks who needed misericords.