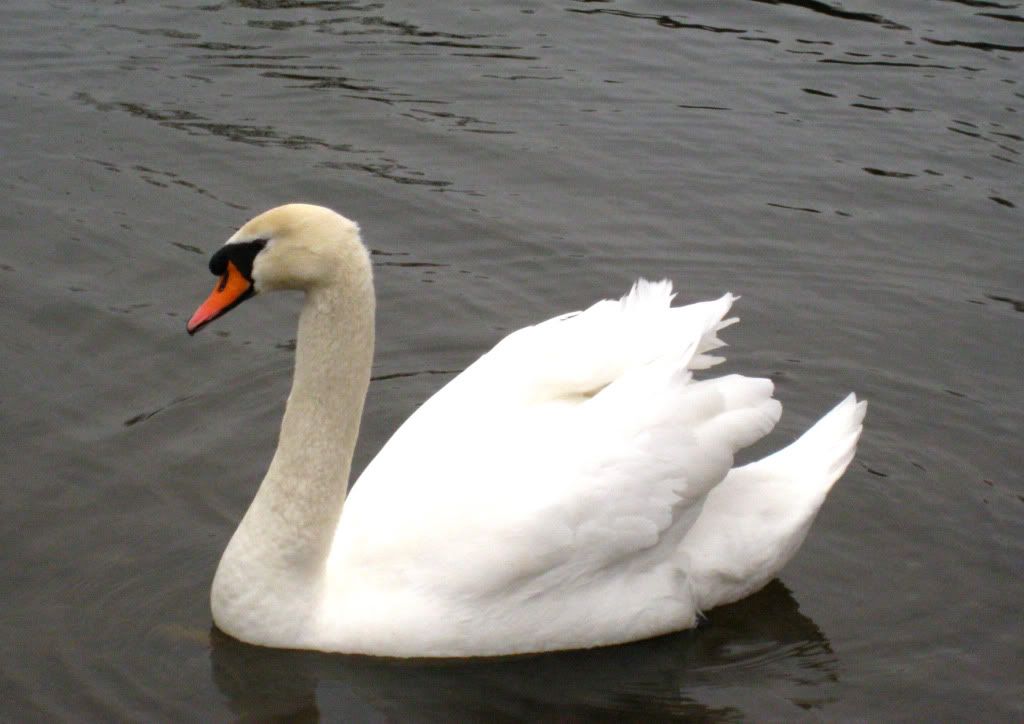 Great Britain greeted me with a good amount of water. It was raining cats and dogs. But Pink_peril_lz whom I have not seen for at least a decade simply said: "Sitting here with a very serious face?" (I was sitting in a Costa, local airport coffe shop, waiting for her to pick me up and reading "The Tiger"). Then she said: "We need to stop by in a garage" and I thought" Why on Earth we need to stop by in a garage? Minutes later I discovered that garage is a gas station In GB. And then the fun part strarts for me: this driving part where I literally thought that all incoming traffic on "my side of the road", all this roundabouts and pretty narrow lanes. Good thing I did not need to drive, Pink_peril_lz was maneuvering between cars with ease. Needless to say I have not seen a lot because of the rain, but what I have seen was totally different from yellow brown colors of winterish Colorado. It was almost emerald green everywhere.
Our final destination was little cozy place in East Anglia, where I spent the most part of my visit to the UK. East Anglia contains Norfolk, Suffolk, Essex and Cambridgeshire.
Next day I found myself amused in Sainsbury Centre - public muzeum in East Anglia. Sir Robert and Lady Sainsbury donated to UEA (University of East Anglia) their private collection of the world art in 1973. This place contains a lot of works from a wide range of culture and historical periods. In that place I had flash back to childhood when I saw mummy portrait of a youth (Egypt) - the work I have seen in a textbook of history! That day I was not able to walk around campus that have pretty interesting architectural design. I have done it the other day.
The staircase in the Sainsbury Center
Whistling bottle as a bird on eggs or pods (Ecuador, Manabi province, Chorrera culture, c 1000-100BC). This bird in a form of a parrot or macau would whistle as liquid was poured from the spout. The air will escape from the tiny hole at the top of the head and bird make a whistling sound. Neat! (I have not heard this whistle but I believe it would whistle)
Kneeling figure (Ecuador, Manteno culture, c AD 800-1500)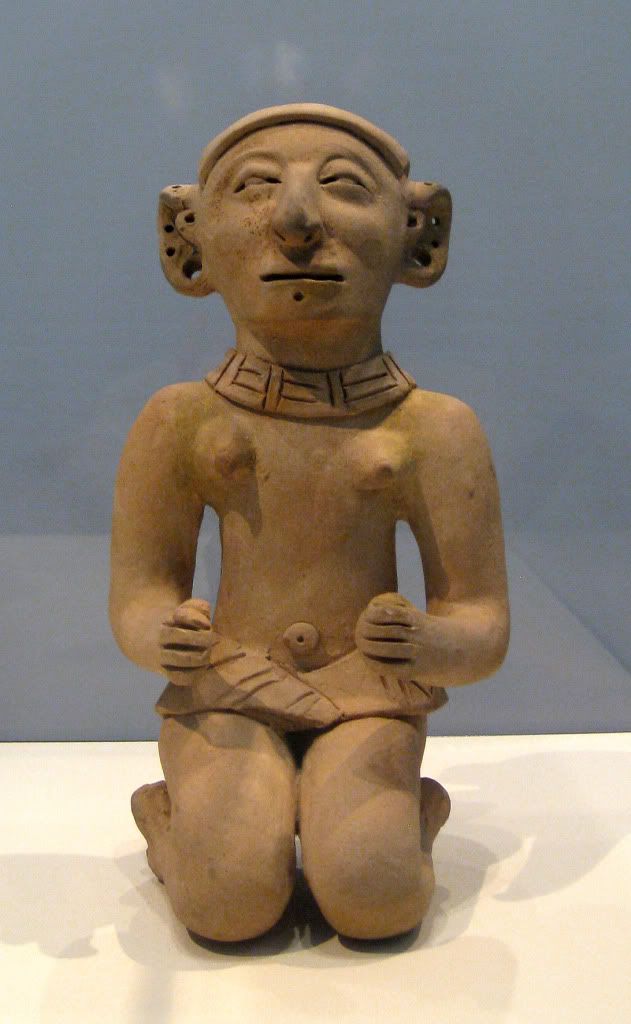 One of my favorite thing there was a head dress ornament in the form of fox (Peru, Piura Valley, Moche style, c AD 1-800) made from copper, shell and greenstone
People who are the Burning Man festival participants will notice the resemblance of that figure to burning man logo. Breast ornament (Santa-Cruz, 19/20th century) made from clam shell/turtle shell and fibre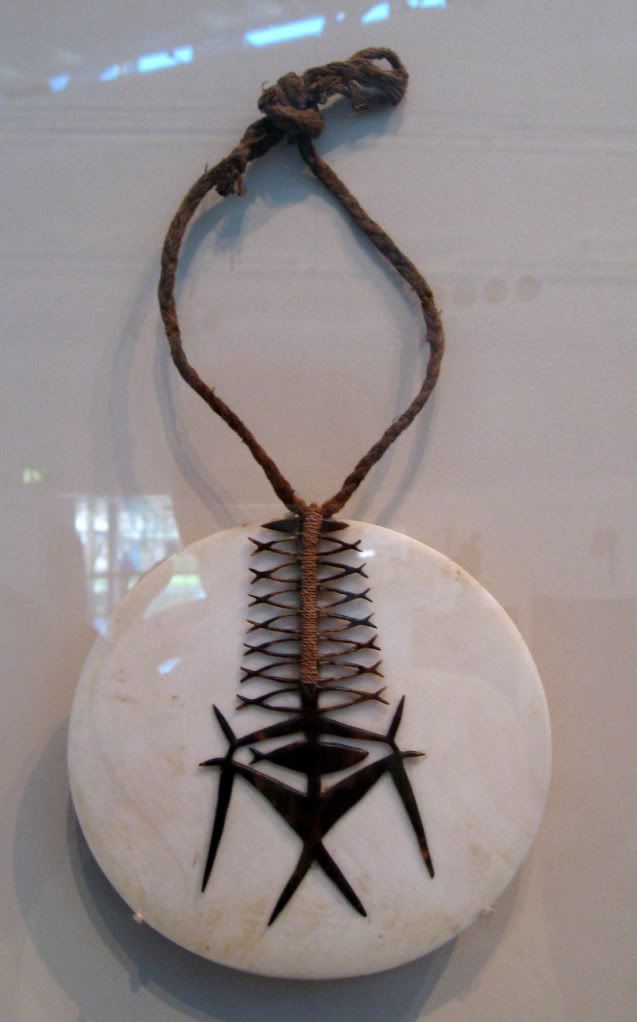 I liked the owl mask from Northern New Ireland (late 19th century) wood/shell/opercula/pigment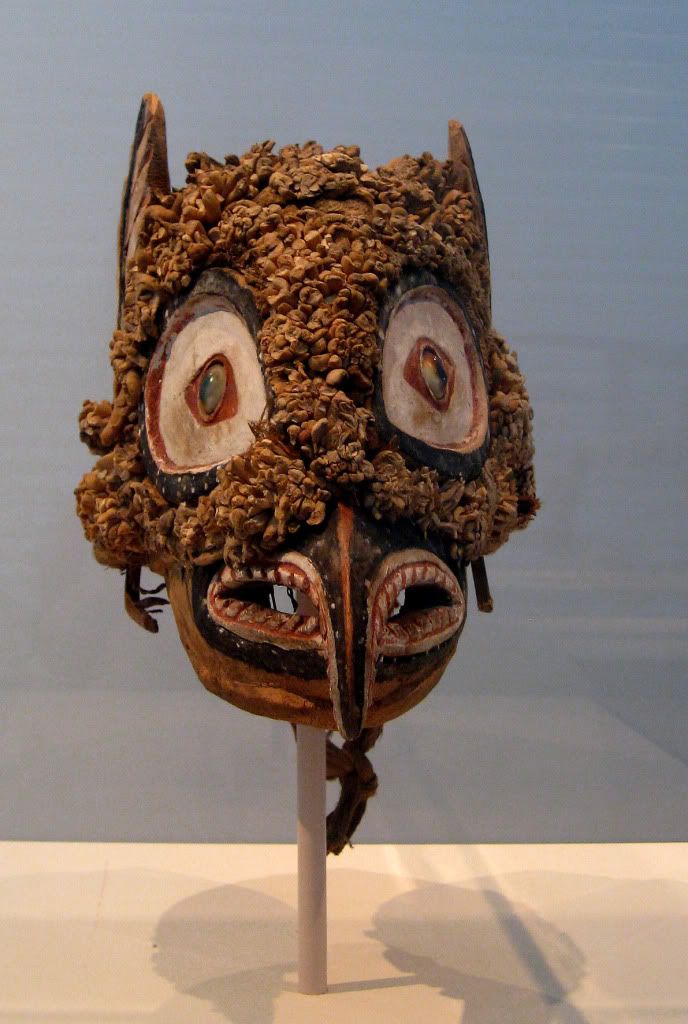 Or that mask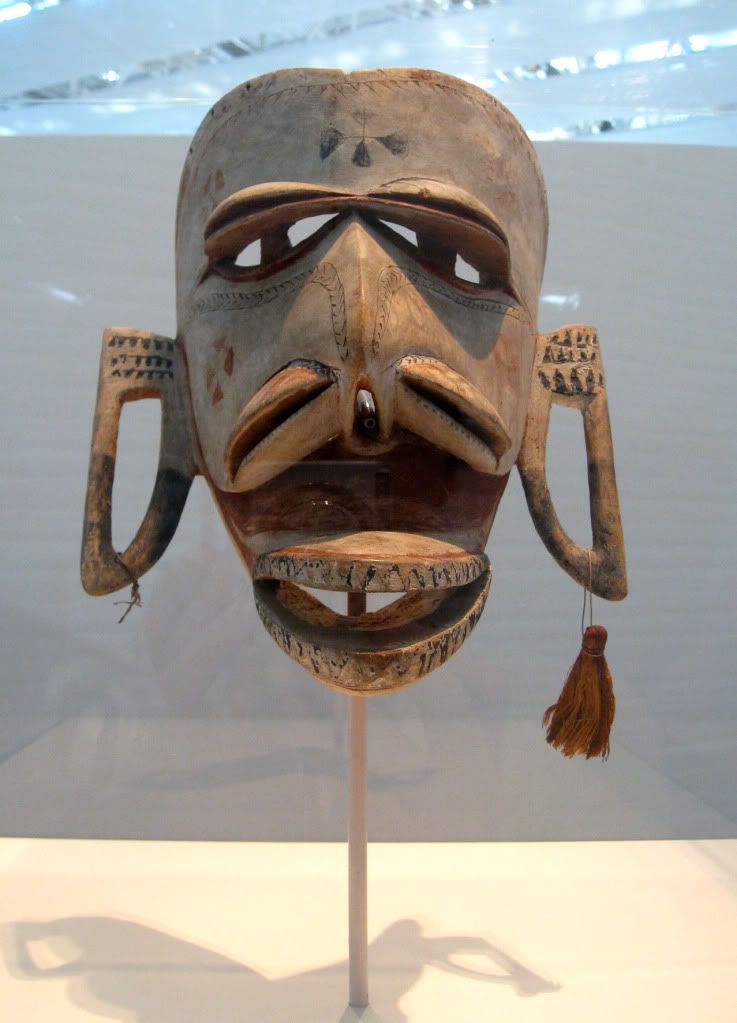 Hornbill Carving. It belongs to a group of carvings known as Malagan and was intended to use in a festival of the same name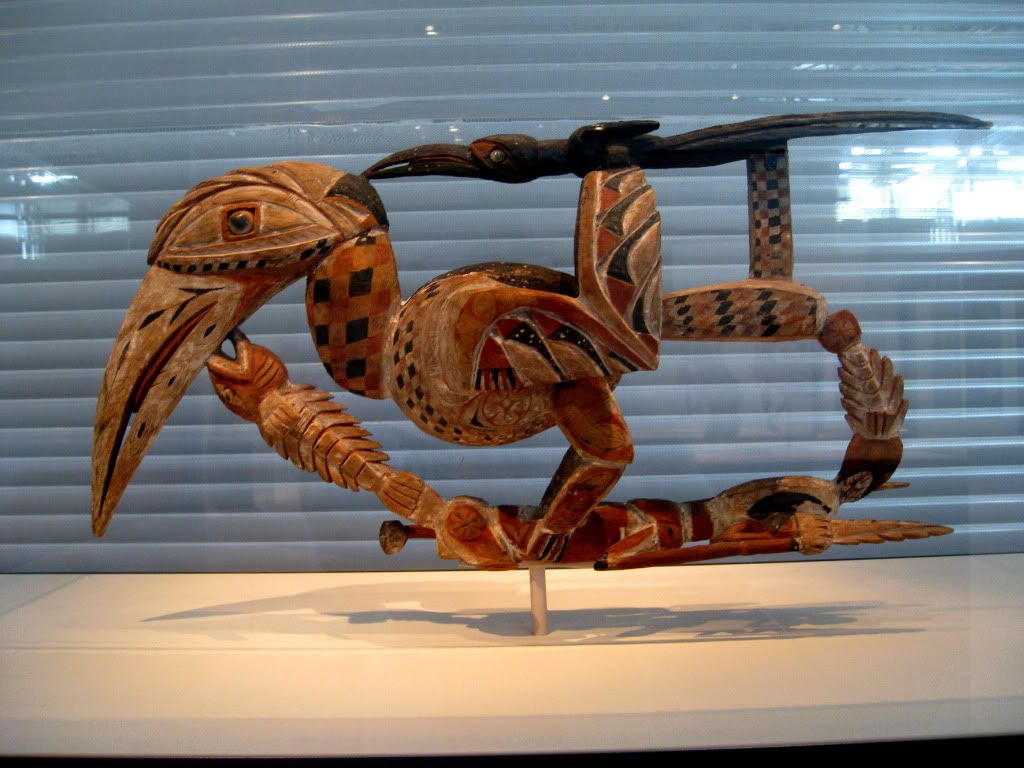 There is magnificent figurines of dieties
Female Shinto Diety (Japan, Kamakura period (AD 1185-1333) polychrome wood)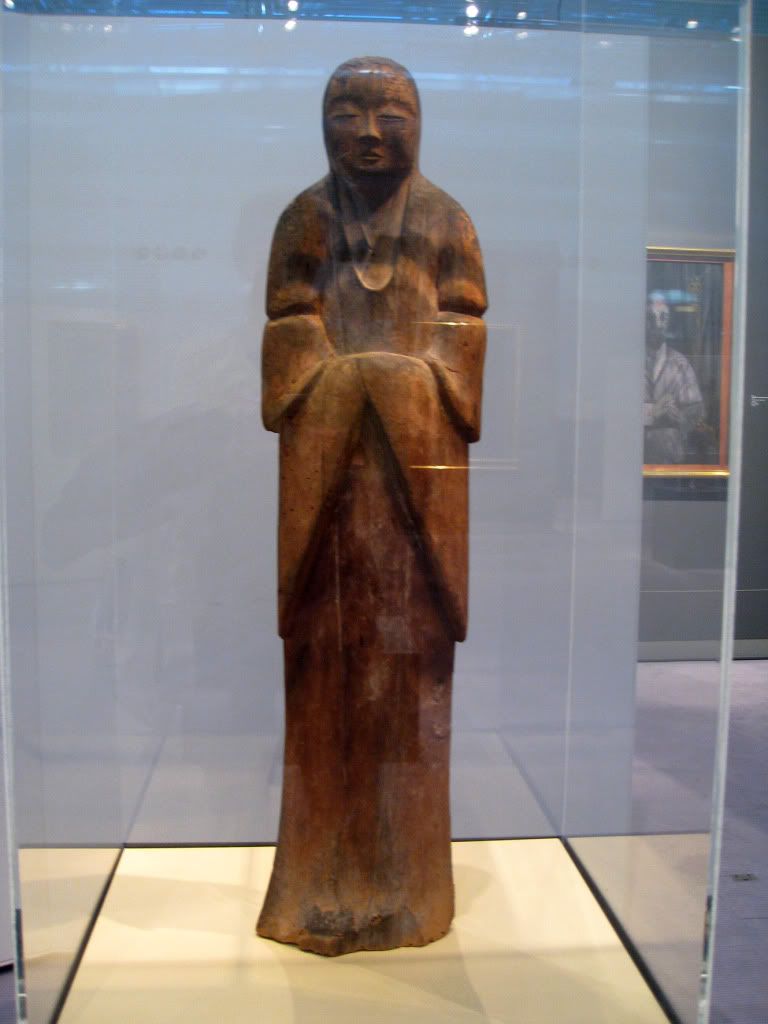 Bodhisattva Maitreya (China, Henan Province, Northern Wei Dynasty (AD 386-535) Early 6th century, Grey Stone)
Male Head (possibly head of a Christ) England Mid 12th century stone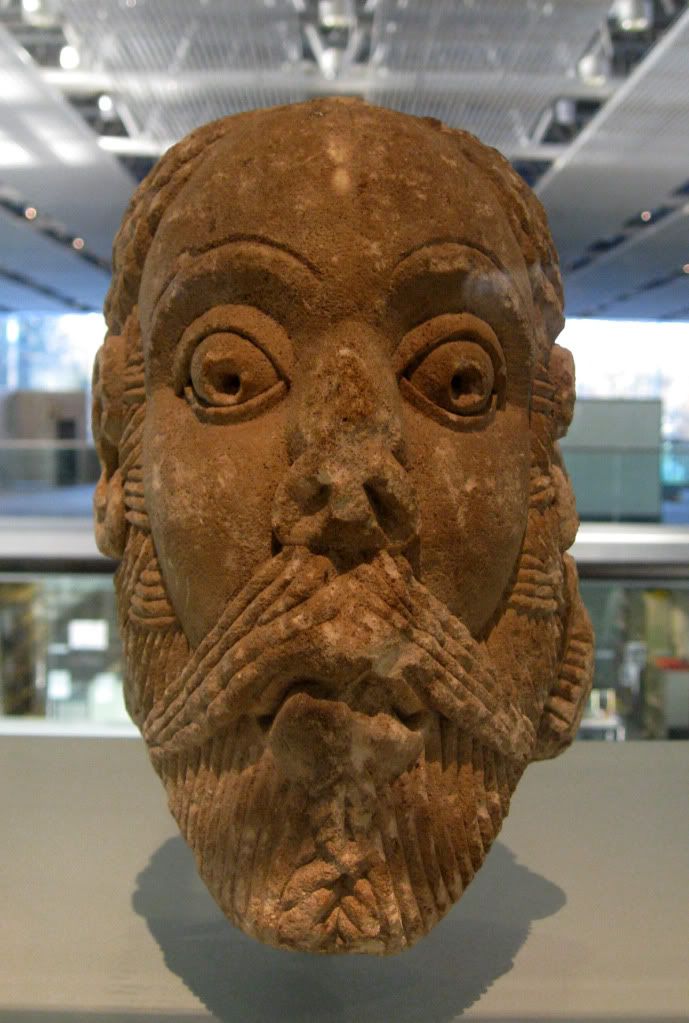 And it is much more...
But it is time to go out and here arethe Ziggurats of UEA
And the road that leads to the lake, where bored/tired/frustrated/excited etc students and faculty members and some tourists like myself can take a walk/jogg or just fish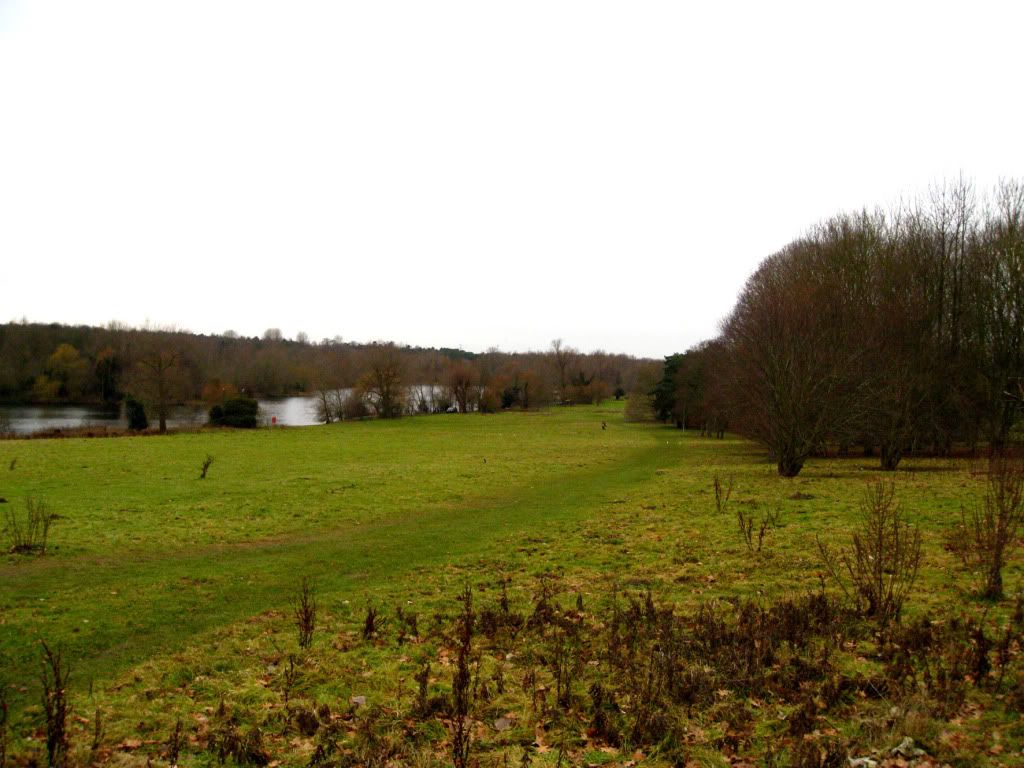 I was pleased to see that someone else love my cat beside me
Greens close up. Actually a lot of trees in East Anglia covered with different types of greens (it is my term for whatever covers trunks of trees and bushes).
And the reds
The swan seems to be not only the common name for a lot of pubs in England but as well it is a common live being in the water. And of course I like to obstruct the view with sticks:-)